Sometimes when using Diawi, it is nice to be able to display the links for an app on a page, on a dashboard, on a back-office, on a wiki, ...
But a simple URL is not nice enough, so we made badges like this one
!
You can now create a badge with a very simple URL, HTML or Markdown syntax. Much like shields badges, it is made of SVG and behaves like an image. It displays the link and it's current status (available, expires soon, not available).
When you have many versions, it can make something very nice like this: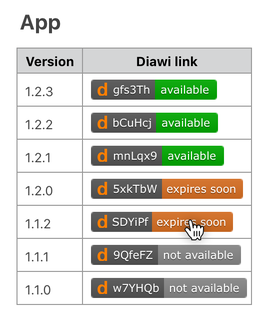 You can keep an eye on which links are available or are going to expire, and at the same time provide a nice display to your testers and users.
It's available now, check the docs in your account's dashboard!